Herbal Body Lotion- Gifts Under 15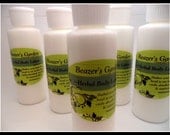 New Natural Silky Formula.
Hydrate your skin from head to toe with this light, easily absorbed & nutrient filled body moisturizer. Lightly scented with pure essential oils, offering long- lasting coverage.
Great for men and kids also.
4 oz.
Choose from:
~~~~~~~~~~
Rejuvenating Deluxe- Lavender, Geranium & Rose
Citrus Spice- Orange, Cinn...
Click Here to Visit My Etsy Shop!