Herbal Spa Bath & Body Gift Set- Mothers Day- FREE SHIPPING - $60.00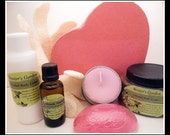 My products are made from certified organic herbs, essential oils, & natural ingredients. They do not contain any of the harsh chemical preservatives found in store bought items, are non-toxic, cruelty free, sustainably produced & are safe to use around children & pets.
Click Here to Visit My Etsy Shop!