Herbal Spa Cream and Sugar Bath & Body Gift Set-FREE SHIPPING-$54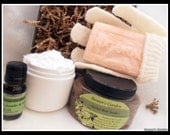 Pamper your body & lavish your skin with this luxe set of some of my favorite and most popular items. Treat your body from head to toe with all natural, delicious smelling and luxurious feeling products that will nourish your skin and make you feel like you've just stepped out of a premier spa!
Click Here to Visit My Etsy Shop!