Organic Herbal Bath Soak Tea Bags/Facial Steamers- Gifts Under 25 - $18.00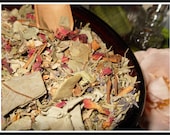 We drink teas to infuse our bodies with goodness & healing from the inside, imagine steeping your whole body in one!
These herbal tea blends smell soo delicious you'll want to drink them, But dont! The combination of organic herbs, essential oils and other natural ingredients are specially chosen to nourish your skin, from the outside in, lending their healing properties to your body.
Click Here to Visit My Etsy Shop!