Black Friday Shop Till You Drop ~ Weekend Sale is almost over!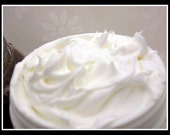 Whipped Body Butter- It's like frosting for your skin!
This whipped butter melts into skin, leaving your body soft all day long! Use a small amount when skin is still warm and damp after bathing, showering or when you feel the need to pamper your skin in fresh scented goodness! Its concentrated skin softening formula lasts a long way.
Contains ultra refined shea butter blended with natural healing plant o...
Click Here to Visit My Etsy Shop!