Eco Laundry Soap Powder- Natural Home Care - $12.00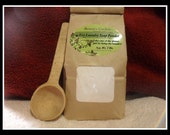 Eco-Friendly Laundry Soap Powder
Take care of your health and do your part to save the planet, just by doing the laundry! Wash your clothes with this all-natural soap powder & rid our water supply and planet of harmful chemicals.
Most commercial laundry soap contains harsh ingredients like ammonia, phosphorus and other chemicals that cause allergies, rashes, sinus problems & other unfort...
Click Here to Visit My Etsy Shop!