New Item in Shop! Aromatherapy Oil Set with Sugar Scrub or Whipped Body Butter - $35.00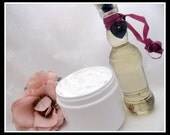 Treat your body from head to toe with all natural, delicious smelling and luxurious feeling products that will nourish your skin and make you feel like you've just stepped out of a premier spa!
Use the fragrant essential oil blend solo in the bath, as a massage oil, or to scent your skin in aromatic beauty or mix with my decadent sugar scrub or whipped body butter for scented exfoliating or moisturizing yumminess!
Click Here to Visit My Etsy Shop!